The mid-century modern style was formed during the mid-20th century movement to use modern artwork, architecture, and furniture design in the home. Just like the minimalist movement, mid-century modern décor calls for functionality and simplicity in its decorative pieces, with simple flairs of fashion like warm woodwork and metallic finishes.
When it comes to furniture, the best thing mid-century modern furniture can do for space is to break up some of the straight lines with the more organic shapes and curves that it favors. The curved lines and rounded edges that many mid-century modern furniture pieces support can also incorporate much-needed personality to space.
All these qualities have made this style loved by artists, designers, and home sellers everywhere. Using mid-century modern furniture pieces to stage a home can bring a refined, memorable, and classic look to your home.
If you want to stage your home for selling purposes, here's what you need to know about mid-century modern furniture:
Blends Well with Others
You don't need to have a glass-walled ranch house to use mid-century modern furniture. These smooth and elegant pieces merge well with most décor and furniture styles, from ornate Asian to shabby chic.
Lovely Color Palette
Usually, the colors used in the furniture are from the typical color palette of mid-century modern design. Add tones of green, tans, blues, and pinks; palette also includes today-colors like lemon, cyan, lilac, and tangerine. Home staging also welcomes the plastic woods and natural woods, the pastel colors, and black accents essential to these furnishing.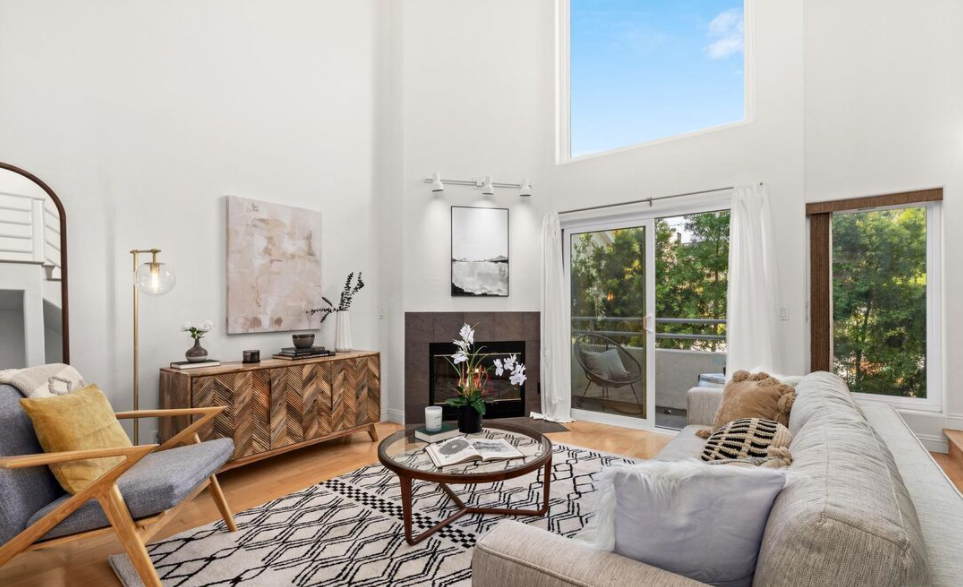 Multipurpose Furniture Pieces
Mid-century modern style furniture was initially created for the middle class. For this purpose, the furniture is usually multipurpose, like a convertible chair that acts as a statement piece or a coffee table with storage space. This is ideal for home staging because it means less clutter and cleaner-looking spaces that leave more to the buyer's imagination.
Perfect Lines
The mid-century modern chairs have open arms; bookcases have pencil legs; credenzas hide clutters, and tabletops are glass sheets on aerodynamic bases. These qualities can make a room look bigger and spacious, thus making this furniture great to use in home staging.
Creates a Perfect Feel
Mid-century modern furniture manages to look warm, comfortable, and industrial simultaneously. Originally designers wanted to produce democratic furniture; that's why they turned to mass production. As a consequence, many pieces have an industrial feel to them. But because of the playful geometric textiles and light-toned wood, these pieces don't look cold, making them perfect for home staging, a style that attracts the masses!
Final Words
The mid-century modern style furniture is making a huge comeback in home staging and decorating. Stage your home with mid century modern staging furniture to attract customers. This well-constructed, colorful, unique, and easy on the eyes mid-century modern furniture will help sell your house in no time!