The Benefits of Staging Your Home
If you're considering selling your home or are selling a home for a client, home staging can be a major step in helping a prospective buyer visualize themselves living there. While you may have fond memories of your home décor, furniture and design, fresh eyes often struggle to see beyond the personal touches left by sellers during the showing process.
Giving your home a clean, inviting neutral look that allows a potential buyer to see the property's potential is essential to selling your home quickly and for the best offer. Not only can home staging give your dwelling an organized and clean look, but it can also give the necessary details to emphasize its beauty.
What is Home Staging?
Home staging is a marketing strategy used by real estate agents and sellers to improve the aesthetics and help potential buyers visualize themselves in a home. Home design & staging is a significant part of buying and selling a home, as it encourages buyers to place higher offers and make quicker decisions based on the move-in-ready appearance of the property.
Professional home stagers like Mid Modern Designs uses their skills and sharp eye to choose the best furniture, art, and even appliances to improve the quality of the space.
As a professional with interior design experience, the stager can turn awkward unused spaces into unique features of the house, increasing potential buyers' interest in the property and driving up the value.
Not only does a staged home show well in person, but it looks more appealing in photographs and attracts more buyers to see the space. With nearly 99% of buyers starting their home search online (national association of realtors), staging a home for sale is an excellent way to bring in high traffic to open houses, creating increased interest and competitive offers.
How the Staging Process Works
During this process, the home is prepared in a way that will give it an appealing, comfortable, and warm appearance. Through carefully planned furnishing and interior design details, your home will be transformed into a space that attracts many buyers from all different walks of life.
The warmth and comfort created through the staging of your home will appeal to the masses and leave a powerful impression on potential buyers.
What Does Home Staging Cost?
Staging a home has many benefits but doesn't come without a substantial price tag when using a professional. According to data from HomeAdvisor, nationally, home sellers who stage their property will spend between $749 and $2,825.
Home staging in Los Angeles typically starts are the higher end of that estimate and can be well over $10,000 to stage larger Beverly Hills homes. Different aspects of home staging will affect the price, such as the size of your home and the length of time you may require furniture rental. If you have newer furniture and accessories, you may only need to hire someone to come in and reorganize the space, giving it the best layout for viewing.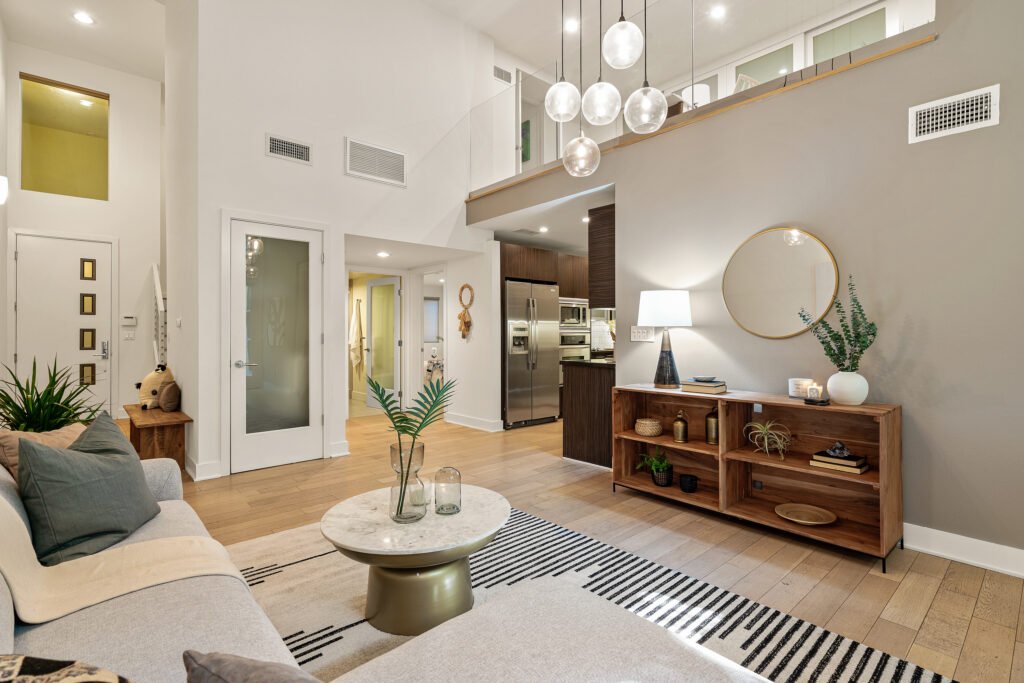 Typically, a home stager will require a consultation visit to assess the home and necessary staging techniques. Depending on your budget, they will likely focus on rooms like the kitchen and living room, with the dining room & bedrooms following close behind. The general consultation can cost anywhere from $150 to $600 but companies like Mid Modern Designs offer free home staging quotes.
While the cost of staging a home can be high, it is important to remember the benefit of doing so regarding the length of time your house is on the market. Nationally, the cost of staging a home for two to three months comes to about 0.75% of the house's listing price, with luxury homes or homes in larger cities like LA costing closer to 1% to 1.5% to stage. While this can add up, most real estate agents say that staging a home decreases the time the house is on the market, making staging a significant benefit, regardless of cost.
Virtual staging services can also be used as an alternative to real or traditional staging to give potential buyers an idea of how the space can look. These services are much cheaper and provide a staged mock-up of the house, encouraging buyers to see the property in person.
See our home staging pricing calculator to see how much it would be to stage your home.
What are the Benefits of Staging a Home?
As mentioned, you want any potential buyer to fall in love with your home. There are also several additional benefits when taking advantage of the staging process.
Make your listing pop.
Buyers have so many options when purchasing a home; the first step to narrowing down their options is shopping online. It's always harder to connect with the buyer through pictures on a screen. When you hire a professional, they have the knowledge and expertise to ensure your listing stands out.
Through home staging, the experts will assist in creating a warm, inviting environment which inspires a desire to visit and see for themselves. 
Increase your price and start a bidding war.
It's no secret that you want to get as much money from the sale of your home as possible. An experienced design expert will use their skills to create inviting spaces throughout your property, attracting the attention of many buyers.
From single working professionals to families of five, the meticulous staging of your home will connect with all of your potential buyers. Once those buyers are emotionally attached, you'll receive the offers and can sit back and relax as buyers outbid each other thanks to your perfectly staged home.
Emphasize the good and distract from the bad.
It is more than likely that your home has been lived in, and there may be a few areas that need more love and attention than others. Through strategic planning, your designer will utilize home staging tricks that draw buyers' eyes to the beautiful aspects of your home and distract them from the areas that may need more love and attention.
If your room is too cluttered or over-decorated, your buyers may have difficulty recognizing their home's unique features. In addition, when your space is bare, it may be easy to notice imperfections and challenging to imagine a functional room layout.
Is Staging a Home Worth it?
Depending on your budget, staging a home for sale is almost always worth it to position you to get the best offer while spending the least time on the market. With home staging, 73% of sellers see offers over the original asking price (Real Estate Staging Association) by as much as 5%-15%. Generally, a buyer can see this return after investing only 1% of the home's worth into staging. The statistics on 4,600 homes also show that, on average, staged homes sold 9 days faster than non-staged homes.
A professional home staging service may not be an option for all sellers on a tight budget. In this case, doing some staging of your own is an option. However, it is crucial to remember that cutting corners can create other financial burdens and inconveniences.
Aside from sacrificing a professional opinion, doing your own furnishing & staging means you need to have sufficient furniture to accentuate the space, showcasing its possibility. If items need to be removed for showing, you may have to rent a storage space and pay for it while you wait to sell your home. In addition, any aesthetic home repairs need to be taken care of, adding more to your already full plate.
If you aren't sure whether to stage your home, there are still simple things you can do without the help of a professional design firm to increase your home's potential on the market.
Start by looking at the apparent aesthetics you can improve by removing or improving them. Here are some options to consider for improving the appearance of your house before hiring a professional home staging company:
A fresh coat of paint is an easy way to give rooms a facelift without spending a lot of money.
New hardware in the kitchen and bathroom can significantly impact your home's overall look.
Focus on landscaping and exterior improvements because first impressions are everything in the housing market. Weeding, leaf blowing, and pressure washing the sidewalk and driveway are simple things that go a long way in the appearance of your home.
Eliminate any clutter or unnecessary things around the house. Empty off kitchen counters, leaving only things that add to the aesthetic and don't crowd the space, visually creating more room.
Why Staging Your Home is Important
As prospective buyers walk through, they must be able to envision themselves living in your home. During the tour, they shouldn't feel like guests; each room should be so inviting that they feel like they are already home.
A delicate balance ensures you have just the right amount of furniture and décor. Personal items, such as family photos, will leave the buyers feeling like they are intruding, while rooms sparsely decorated will leave them feeling unattached.
Hiring a design professional to stage your spaces will leave your buyer feeling the warmth they desire in the place they will soon call home.
Whether you are just starting to consider selling your house or have already listed it, looking into home staging is an integral part of the process. Talk to your real estate agent about home staging and do your research on trusted companies to hire.
With all the major benefits, it is easy to see why home staging is necessary when selling your home for the best investment return and a swift selling period, often with multiple offers to choose from.
Interested in Staging your Home? Here's How
Now that you understand the significant benefits of the staging process, you're ready to move forward and take advantage. You can do a few things to ensure you have the best experience possible with the most profitable outcome.
Map out your budget and goals.
Before beginning, you should consider how much you can spend on home staging. It's essential to remember that an investment in staging will provide the potential to earn much more during the sale of your home. It may not be in your budget to have the entire home staged, but at that point, you can work with a designer to determine the areas of the house where your money could best be utilized.
Chat with a design professional.
A professional stager will come to your home and work with you and your agent to devise a plan to help you take advantage of all home staging can offer. At this time, you can complete a walk-through, discuss the strengths and weaknesses of the home, and chat about any budget you may have in mind.
Clean until it sparkles.
It's incredible the difference you'll notice after completing the staging process. However, your home must be clean before any of that takes place. A thorough, deep clean should take place before staging the home. You can hire a professional cleaning service if you have it in your budget. If not, grab your mop and bucket and get to work.
As the seller, you want to get the most out of your home and do so as quickly as possible. To do that, you must focus on your buyers. You want to attract as many buyers as possible, ensure they fall in love with your home, and entice them to make you an offer you cannot refuse.
During this process, you will be pulled in many directions, and during an already stressful time, the best thing you can do for yourself is to trust the design experts. Allow a home staging professional to maximize your home's potential and grab the attention of every buyer shopping in your area. All you have left is to sit back and wait for the highest offer.
Los Angeles Home Staging Company
If you need home staging or interior design services in southern California, an interior designer & professional home stager at Mid Modern Designs can help. We stage homes and condos in the greater Los Angeles area from Studio City to Century City, the Hollywood Hills and beyond. Speak with one of our interior design specialists today.
FAQs
Why is Home Staging Important?
After deciding to sell your home, you want to be sure you attract the right buyer and, most importantly, the right offer. The buyer needs to be immediately drawn to your home from the moment they walk in the door. You want to build their infatuation each time they enter a new area of the house. Creating an environment that evokes these strong emotions isn't easy, and if you want it done right, you should call upon the experts. Utilizing a service known as home staging will ensure your buyers will fall in love and be ready and willing to do whatever it takes to make your house their home.