Sherman Oaks Home Staging
Mid Modern Designs' Offers Home Staging Services in Sherman Oaks, CA
---
Mid Modern Designs, a home staging & design company in Los Angeles that offers home staging in Sherman Oaks, is the secret weapon used by real estate agents and home sellers in Sherman Oaks and the greater Los Angeles area to sell faster and at a higher price.
We are the premier source for quality home staging in and around Sherman Oaks. If you are selling a home in the Los Angeles or Orange County area, Mid Modern Designs can help.
Real estate has always been a competitive market and selling a house has never been an easy endeavor.
You need to take advantage of every tool and strategy at your disposal to convince potential buyers that your home is the right home for them. Your clients will thank you.
If you're looking for one of the highest rated, best staging companies in Los Angeles, look no further. Speak with one of our home staging experts today.
Home Staging in Sherman Oaks
Home staging is important because it allows prospective buyers to see the potential in a property. Proper staging can be the difference between a home that languishes on the market for months and one that sells quickly. Home staging, when executed well, has the ability to make a house more attractive to a wider range of buyers, which in turn will lead to a faster sale and often, a higher price.
Sherman Oaks, CA is a particularly competitive real estate market, so any advantage that sellers can give themselves is worth considering. Home staging is one way to give your property an edge and ensure that it stands out from the rest.
Home Staging Near Sherman Oaks by Mid Modern Designs
---
About Mid Modern Designs
Mid Modern Designs is a team of dedicated home stagers, designers & decorators who began offering professional home staging services in the Los Angeles area in 2019.
We have since established ourselves as one of the premier luxury home staging services in Southern California, with a reputation for top notch interior design and for employing the finest furnishings.
We have a track record second to none: 100% of homes staged by Mid Modern Designs are sold during the three-month staging contract period, and 75% of those have sold for more than the asking price.
We also offer free home staging quotes, so there is no risk in calling us today to find out how the best home staging company in Los Angeles can help you sell your home.
As the premier staging company Los Angeles has to offer, Mid Modern Designs' home staging services can help you sell you home quickly and for more.
More About Home Sales in Sherman Oaks, CA
While Sherman Oaks may not be the largest city in California, it is well-known and highly sought-after, especially by families. The school system is excellent, the location can't be beat (it's close to both Los Angeles and Ventura County), and the median home price is just over $1 million. That may seem pricey but considering the average price of a home in California is over $600,000, it's actually quite reasonable. In addition, the average price of a home in Sherman Oaks has increased by almost 10% over the past year, so now is a great time to sell.
If you're thinking of selling your Sherman Oaks home, whether it's a family home, investment property, or vacation rental, we highly recommend considering professional home staging services. Staging will make your home more appealing to buyers and help you achieve a quick and profitable sale.
Who Uses Home Staging Services?
While many people think of home staging as a service that is only meant for elite, high-end properties, the truth is that any home will benefit from staging.
Whether your home is large or small, new or old, in a prime location or in a more rural area, proper home staging can help you sell faster and for more money. Period.
Home staging is an especially good idea if your home is:
Vacant
Staging a vacant home is one of the best ways to sell quickly and for top dollar. Buyers have a hard time imagining what a space could be, so a staged home allows them to see the potential and visualize themselves living there.
Occupied
Staging an occupied home can be a bit more challenging, but it is still possible and often worth the effort. Staging will help you declutter and organize your home so that buyers can see the property's best features.
A vacation rental
Staging a vacation rental is a great way to make it more attractive to potential guests. Staging can help you highlight the property's best features and make it more inviting.
An investment property
Staging an investment property can help you attract high-quality tenants and achieve a higher rent. Staging will make the property more appealing and increase its curb appeal.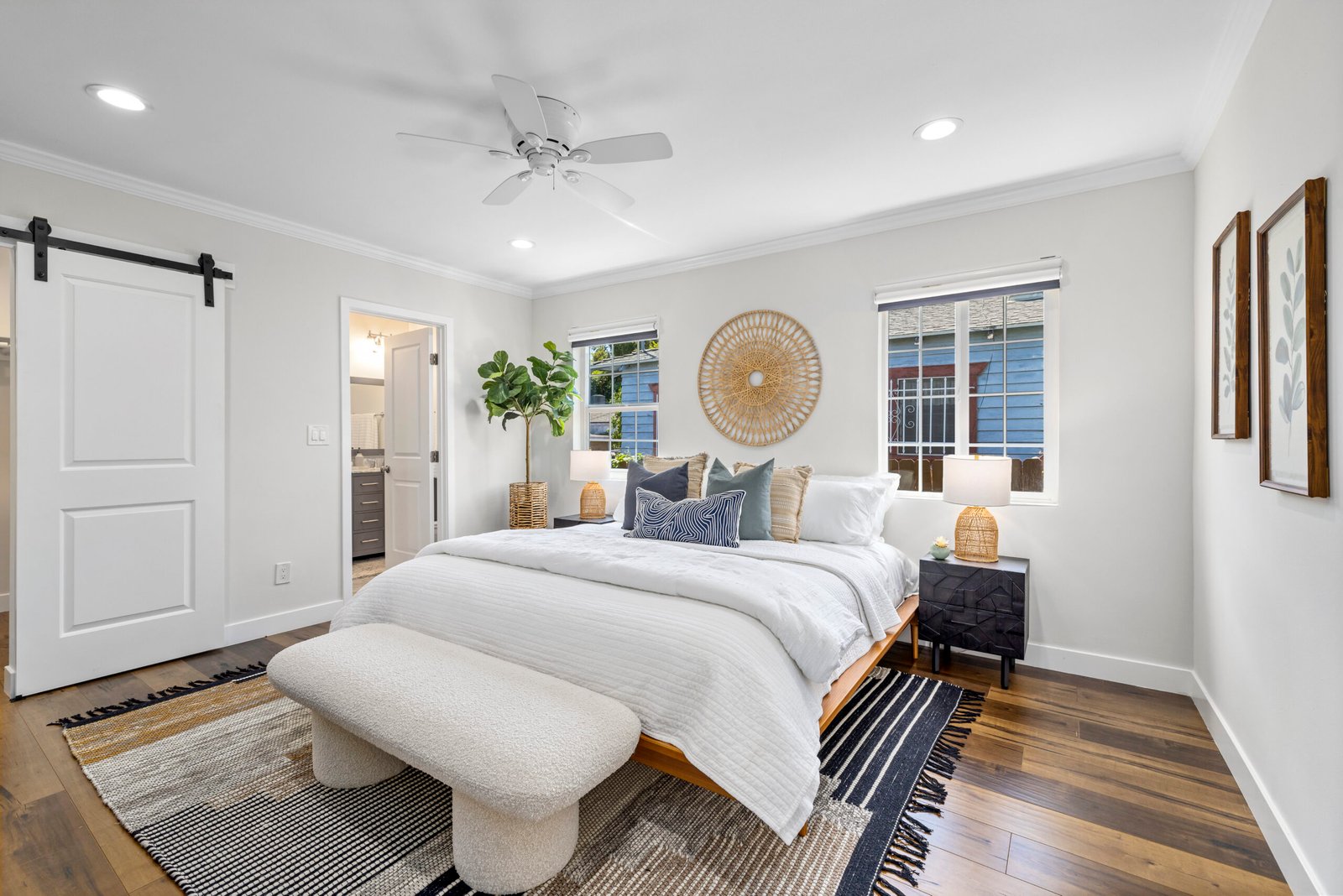 Our Process – How Home Staging Works
Our Staging Process: After you contract Mid Modern Designs, the premier LA staging company, for home staging, with a standard contract length of three months, an interior designer and home stager will come to your home and assess how best to accentuate its strengths. After the interior design stage is complete, all the necessary furniture and décor will be ordered and delivered to the home. Our stagers will then move everything in and arrange it according to the design.
Now the home is ready to be shown to potential buyers. After the home is sold, or the furniture rental period ends, movers will come to the home and remove all rented furnishing, décor, and accessories. Some buyers are so taken with the staging that they want it included with the home, and we offer the option to purchase the furnishing and décor used in the staging process.
Free Home Staging Quote
You've invested time and money into your property. Selling it isn't the place to cut corners. That's why you need home staging. Our job is to make sure you get top dollar for your beautiful Sherman Oaks home.
We're not here to make your home look like a magazine cover. Your potential buyers want personality and warmth and they'll feel as if they found their own oasis when they step in to view.
Home staging with Mid Modern Designs is the best start to getting a return on your home investment. Whether you're looking to stage you home in the Hollywood Hills, Century City, Studio City or anywhere in the greater Los Angeles area, Mid Modern Designs can help. Are you ready to get started?
Contact Us for Your Free Staging Quote
---
Home Staging Services Near Sherman Oaks by Mid Modern Designs
Mid Modern Designs offers staging services in Sherman Oaks and throughout the greater Los Angels area.
Below is a list of cities near Sherman Oaks, CA where we offer house staging services.
Valley Village
Studio City
Tarzana
North Hollywood
Toluca Lake
Reseda
Panorama City
Valencia
North Hills
Universal City
Northridge
Woodland Hills
Sun Valley
Winnetka
Mission Hills
Pacoima
Canoga Park West
Hills Granada Hills
Topanga Culver City
San Fernando
Calabasas
Don't see your city listed? Contact us to see if we service your area.
---
Our Home Staging Projects Near Sherman Oaks
Mid Modern Designs is a Los Angeles home staging company that offers home staging services in Sherman Oaks and across Los Angeles and surrounding counties. We are one of the fastest growing home staging companies on the west coast.
Speak with one of expert home stagers today and request a free quote for furniture staging Los Angeles properties.
Our home staging & interior design services cover:
Los Angeles
San Diego
Orange County
Santa Barbara
Palm Springs
and more!