Home Staging Beverly Hills, CA
Home Staging Services in Beverly Hills, CA by Mid Modern Designs
Mid Modern Designs Beverly Hills Home Staging Services
Mid Modern Designs, a home staging & design company in Los Angeles, offering home staging in Beverly Hills, is the secret weapon used by real estate agents and home sellers in Beverly Hills and the greater Los Angeles area to sell faster and at a higher price.
We are the premier source for luxury home staging in Beverly Hills. If you are selling a home in Beverly Hills or in the greater Los Angeles area, Mid Modern Designs can help.
Real estate has always been a competitive market and selling a house has never been an easy endeavor.
You need to take advantage of every tool and strategy at your disposal to convince potential buyers that your home is the right home for them.
Speak with one of our home staging experts today.
Home Staging in Beverly Hills
Selling your home in Beverly Hills is often about providing your buyer with the vision of living in the home. Beverly Hills is a competitive housing market, and you want to be sure that you get the most for your home. Buyers don't want to walk into a cold empty house.
They want to see a simple yet beautifully staged home that shows them what their life in Beverly Hills could be like if they were to purchase the home or apartment. Home staging is the process of preparing the interior of a house or apartment to give it the appearance of appealing and comfortable living space.
Furnishing and interior design establish a setting of warmth and comfort meant to persuade potential buyers that this is the right home for them. Instead of staring at empty walls, the buyer can experience an example of what it can be like to live in the space, substantially increasing the chances of making the sale.
Home Staged by Mid Modern Designs Near Beverly Hills
---
About Mid Modern Designs
Mid Modern Designs is a team of dedicated home staging designers & decorators who began offering staging services in the Los Angeles area in 2019.
We have since established ourselves as one of the premier home staging services in Southern California, with a reputation for top notch interior design and for employing the finest furnishings.
We have a track record second to none: 100% of homes staged by Mid Modern Designs are sold during the three-month staging contract period, and 75% of those have sold for more than the asking price.
We also offer free home staging quotes, so there is no risk in calling us today to find out how the best home staging company in Los Angeles can help you sell your home.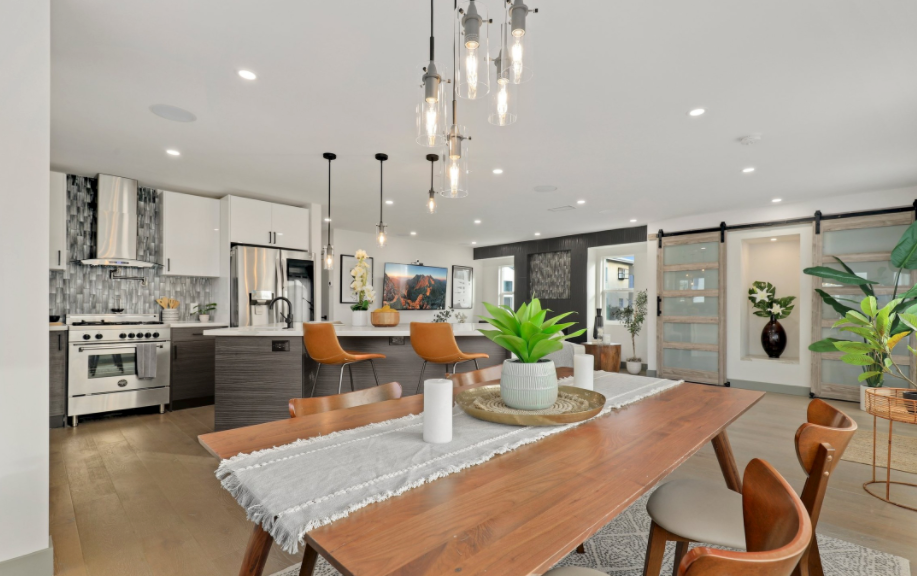 How We Can Help Stage Your Beverly Hills Home
Mid modern Designs will ensure that your home is staged in the perfect way for the market. Professional staging can help attract higher bids, so you get the biggest return on your investment. Those who come to visit the home are expecting to experience the ambiance that is present in your listing.
Mid modern Designs can help you create an inviting space that potential buyers are sure to love. Don't miss out on a higher price for your home, contact Mid modern Designs to stage your Beverly Hills home before your next open house or viewing.
The Benefits of Staging your Beverly Hills Home
Staging a Beverly Hills home may seem like an expensive and time-consuming process. However, those that take the time to stage their home often see a huge return on their investment.
Homes that are staged in Beverly Hills stay on the market for much less time than those that are not staged.
Staged homes are more likely to garner a price over the asking price of the homeowner in the competitive market of Beverly Hills. Staged homes in Beverly Hills cause possible buyers to spend more time in the home during an open house.
Potential buyers spend upwards of 40 minutes in staged homes and only five in homes that are left empty.
What to Avoid When Staging your Home in Beverly Hills
It is important to understand the median income of the Beverly Hills area as well as common design practices that can be found in similar neighborhoods. You will want to avoid staging a home with décor that is not popular in the area or that does not meet the financial expectations of your possible buyers. The way you stage a home can help drive up the sales price so you don't want to take shortcuts when staging.
While appearing cozy is certainly an advantage, staging should always strive to evoke the perfect, ideal home atmosphere.
A well-staged home will avoid dark lighting since good real estate photographs are useful to get potential buyers to the home in the first place.
Free Home Staging Quote
You've invested time and money into your property. Selling it isn't the place to cut corners. That's why you need home staging. Our job is to make sure you get top dollar for your beautiful Beverly Hills home.
We're not here to make your home look like a magazine cover. Your buyers want personality and warmth and they'll feel as if they found their own oasis when they step in to view you home. Home staging in Beverly Hills with Mid Modern Designs is the best start to getting a return on your home investment. Are you ready to get started?
Contact Us for Your Free Staging Quote
Our no-hassle home staging quotes are 100% free.
Take a look at our home staging pricing calculator to receive an instant home staging cost estimate.
---
Home Staging Services Near Beverly Hills by Mid Modern Designs
Mid Modern Designs offers home staging services in Beverly Hills and throughout the greater Los Angels area.
Below is a list of cities near Beverly Hills where we offer home staging services.
Studio City
North Hollywood
Universal City
Valley Village
Playa Vista
Reseda
Inglewood
La Crescenta-Montrose
Valencia
Don't see your city listed? Contact us to see if we service your area.
---
Our Home Staging Projects Near Beverly Hills
Mid Modern Designs is a Los Angeles -based home staging company that offers home staging services in Beverly Hills and across Los Angeles and surrounding counties.
Speak with one of expert home stagers today and request a free quote.
Our home staging & interior design services cover:
Los Angeles
San Diego
Orange County
Santa Barbara
Palm Springs
and more!