West Hollywood Home Staging
West Hollywood Home Staging Services by Mid Modern Designs
---
Mid Modern Designs West Hollywood Home Staging Services
---
Mid Modern Designs, a Los Angeles home staging & design company offers home staging in West Hollywood. Mid Modern Designs is the secret weapon used by real estate agents and home sellers in West Hollywood and the greater Los Angeles area to sell faster and at a higher price.
Selling a home is never easy, especially in a highly competitive real estate market. Any method, tool, or strategy that can be leveraged to assist in attracting potential buyers and convincing them that the home is the right choice for them is pivotal.
Real estate agents and home sellers used Mid Modern Designs, a West Hollywood staging company, as their secret weapon for securing faster sales at a higher price point.
If you are a home seller in West Hollywood, Mid Modern Designs is happy to assist.
Speak with one of our home staging experts today.
Home Staging in West Hollywood
One of the biggest factors in a decision to purchase a West Hollywood home is for a buyer to be able to visualize the living space. Rather than leaving it to a buyer's imagination or risking an empty home that seems uninviting and cold, the house or apartment for sale is prepared with appealing and comfortable living décor.
The comfort and warmth broadcast by the interior design and furnishing staging allow a buyer to better sense how the home would look in their prospective ownership and make them feel that it is the right choice for them. Rather than staring at a space with barren walls, a buyer can experience a version of what living in the space would feel like, thereby increasing the likelihood of a sale occurring.
Home Staging Near West Hollywood by Mid Modern Designs
---
About Mid Modern Designs
Mid Modern Designs began offering its decorating and home staging services in West Hollywood in 2019 and has since become established as South California's top-notch luxury staging service.
The team of expert decorators and stage designers offers customers services of expert interior design and premier furnishings.
Our record speaks for itself: Every home we staged was sold in under 3 months, with 75% of them over the asking price.
The best part is, we provide a stage quote for no charge, so there is no risk in getting an estimate for your West Hollywood home.
West Hollywood Home Staging Pricing
The cost of staging a West Hollywood home depends on the property size and the number of rooms being staged. In general, prices can range from $3,000 to upwards of $10,000.
A condo or apartment between 1000 and 1500 square feet may cost between $3,500 and $6,500 to stage. Larger homes of over 2,500 square feet could cost around $9,000 for a 3-month staging. See our home staging pricing calculator to get an idea of what your cost would be to stage your home.
Included in the costs is a consult from an experienced designer, a furnishing rental, moving said furnishing into and out of the property, and a standard 3-month contract.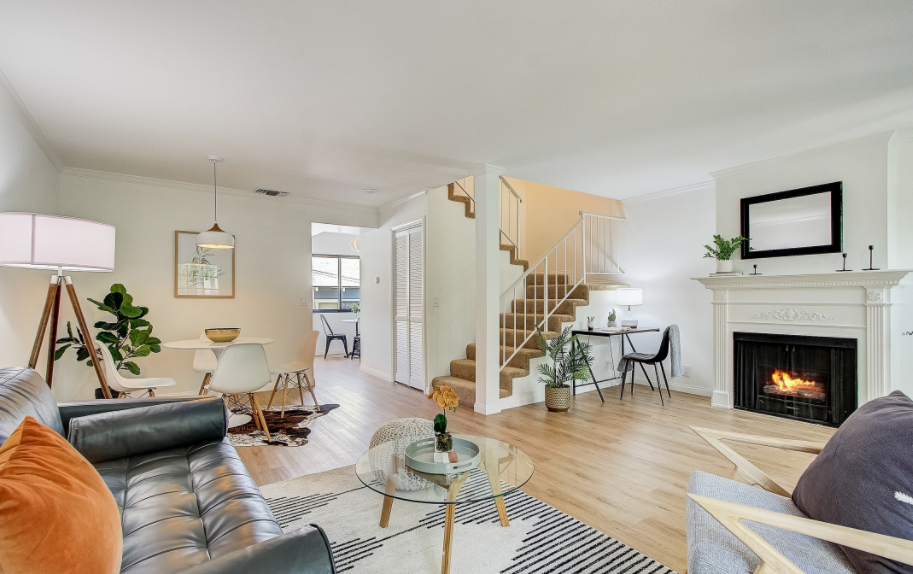 How The Staging Process Works
Once you contact Mid Modern Designs, we will send a designer to assess your property and figure out how to best accentuate the space's strengths. Assuming a standard 3-month contract, we will order all the necessary furnishings and décor to be delivered to your home, at which point our staging crew will move everything in and arrange to the design specifications.
At this stage, the home is ready to be shown to prospective buyers. Once the sale occurs, movers will remove all of the staging furnishings and décor, though, for buyers who want to retain the staging setup, we offer an option for all of it to be purchased as well.
Who Uses WeHo Home Staging Services
Everyone looking to get the most out of their home's sale or real estate agents working to sell a property should consider home staging.
Homeowners are encouraged to consult with home staging services before putting their property on the market to ensure that it looks picture-perfect from the onset.
West Hollywood Home Staging Benefits
It isn't uncommon for home staging to seem time-consuming and costly as compared to showing the listed home in as-is shape, but sellers who invest in staging find that it dramatically cuts down on the time to sell the home (by 33% to 50% on average), with certain staged homes selling 88% quicker than those that do not leverage home staging.
Prospective buyers tend to average only about 5 minutes in a non-staged home, while the average is closer to 40 minutes in a stage property. Sellers with staged properties also sell their homes for about 20% higher than those who do not. The investment effort is more than worth it.
What to Avoid when Staging your LA Home
The key to staging a home is to make the property as presentable, inviting, and appealing as possible, so all considerations must be directed to that.
There is a common misconception that staging should establish a "lived-in" space when in truth stating is done more for setting up an image of an atmosphere of an ideal home.
A staged home will use bright and natural lighting, as that helps in real estate photography to get potential buyers in the door. Virtual home staging is another unadvised trend that entails a home being "staged" digitally using computer graphics, rather than a physical manifestation.
It may be the more affordable and expedited option, but it backfires when potential buyers who were attracted by the stated photos show up. They will feel let down by showing up to a home that is either empty or does not resemble what they have seen.
Buyers will expect to see the ambiance they have come to expect from the photos, so taking shortcuts in home staging isn't at all beneficial. Investing in the physical staging efforts ends up being far more valuable.
Free Home Staging Quote
You've invested time and money into your property. Selling it isn't the place to cut corners. That's why you need home staging. Our job is to make sure you get top dollar for your beautiful West Hollywood home.
We're not here to make your home look like a magazine cover. Your buyers want personality and warmth and they'll feel as if they found their own oasis when they step in to view. Home staging with Mid Modern Designs is the best start to getting a return on your home investment. Are you ready to get started?
Contact Us for Your Free Staging Quote
Our no-hassle home staging quotes are 100% free.
---
Home Staging Services Near West Hollywood by Mid Modern Designs
Mid Modern Designs offers home staging services in West Hollywood and throughout the greater Los Angels area.
Below is a list of cities near West Hollywood where we offer home staging services.
Don't see your city listed? Contact us to see if we service your area.
---
Our Home Staging Projects Near West Hollywood
Mid Modern Designs is a Los Angeles home staging company that offers home staging services in West Hollywood and across Los Angeles and surrounding counties.
Speak with one of expert home stagers today and request a free quote.
Our home staging & interior design services cover:
Los Angeles
San Diego
Orange County
Santa Barbara
Palm Springs
and more!