Home Staging Venice, CA | Home Staging Services in Venice, Los Angeles, California
At Mid Modern Designs, our mission is to stage your Venice, CA home so it draws attention, sells quickly and for more. Request your free Venice home staging quote today and see how we can help you.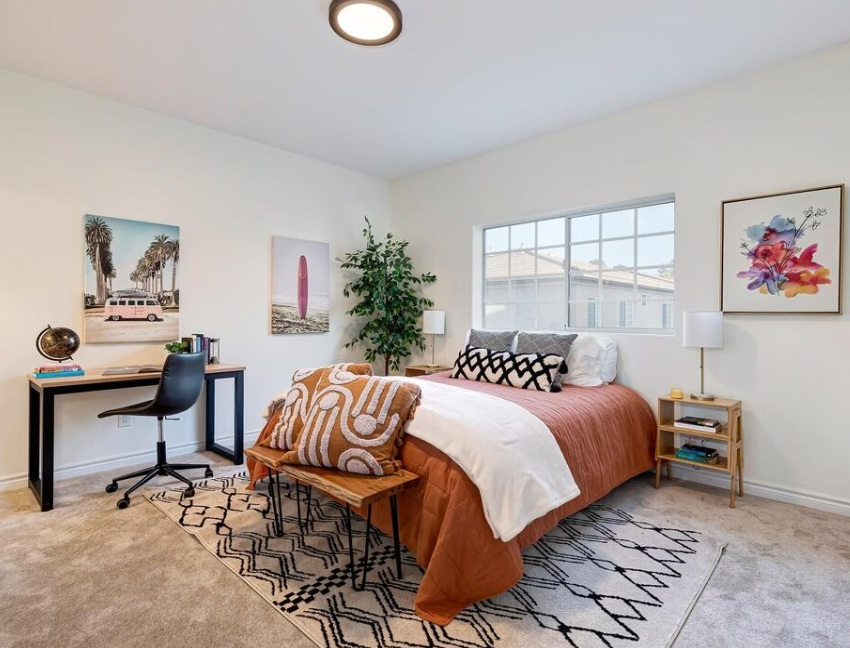 Venice, CA Home Staging & Design
Discover Exceptional Home Staging in Venice, CA
Mid Modern Designs is the premier Los Angeles home staging company offering outstanding home staging services across Los Angeles, with a focus on the buzzing beach town of Venice, CA. We understand that, in the bustling Los Angeles real estate market, making a property stand out amongst the competition has its challenges. Selling a home in such a competitive market requires meticulous planning and an eye for detail, both of which our expert home stagers excel in.
---
Transforming Homes in Venice through Professional Home Staging
We believe every home is unique and should be presented in the best possible light. From strategic outdoor lighting to selecting the perfect mid-century modern furniture, we take pride in crafting & designing a warm, captivating environment for potential buyers. Our team's expertise in mid-century modern design ensures that your Venice property will stand out from the rest.
Previous Home Staging Jobs Near Venice, CA by Mid Modern Designs
---
Redesigning Living Rooms in Venice: The Power of Home Staging
Often considered the heart of a home, the living room plays a big part in making a good impression on prospective buyers. At Mid Modern Designs, we understand the importance of this space and ensure it is inviting and memorable.
Whether it's the placement of mid-century modern home furniture or the careful incorporation of lighting elements, our attention to detail is unparalleled.
Mid Modern Designs, a Top-Ranked Home Staging Companies in Venice, CA
Mid Modern Designs has years of experience as a home staging business and we are proud to be the premier home staging company serving Venice, CA. Our commitment to quality along with the superior customer service we provide gives us the reputation as one of the best home staging companies in all of LA county. While we do not offer virtual home staging, we do also offer custom interior design, tailored to match the diverse needs of our clients in Los Angeles County.
Our Process – How Home Staging Works
Our Staging Process: After you contract Mid Modern Designs, the premier LA staging company, for mid-modern home staging, with a standard contract length of three months, an interior designer and home stager will come to your home and assess how best to accentuate its strengths. After the staging interior design stage is complete, all the necessary furniture and décor will be ordered and delivered to the home. Our stagers will then move everything in and arrange it according to the design.
Now the home is ready to be shown to potential buyers. After the home is sold, or the furniture rental period ends, movers will come to the home and remove all rented furnishing, décor, and accessories. Some buyers are so taken with the staging that they want it included with the home services, and we offer the option to purchase the furnishing and décor used in the staging process.
We offer occupied staging, vacant staging and will work with custom staging projects with minimum staging requirements, average staging requirements or full home & yard staging requirements.
Contact us through our website: Contact Us
Who Uses Homes Staging Services
Anyone selling a home should consider home staging. Both, people selling their homes and your real estate agent will want to be proactive in getting the most out of the sale.
A homeowner or real estate agent can even consult with a home staging service or interior designer well before listing the property so that everything looks picture perfect from the first day their home hits the market.
Be sure that your realtor discusses whether you will need vacant or occupied staging services. Some home sellers have bedrooms furnished already and may only need to stage their kitchen and bathrooms. They may also have the entire interior of the home staged already but are only looking for outdoor staging.
Mid Modern Designs: The Leading Home Staging Company in Venice
As a leading home staging company based out of Los Angeles, we're dedicated to helping SoCal homeowners sell their homes quickly & efficiently.
Our attention to detail extends to every part of the home, including carefully chosen bathroom vanities and strategic lighting. We invite you to contact us to learn more about our services and to explore how we can assist you in selling your home in Venice.
Home Sales Data for Venice California
The home sales data for Venice, California, in May 2023, demonstrates a strong seller's market. Per a Redfin Report, the median sale price of a Venice Beach, CA home was marked at $3.4M which is a substantial 46.8% increase from the previous year. In contrast, per the same source, the median sale price per square foot witnessed a decline of 31.3%, currently standing at $869. Redfin reports that the median days on the market is 80, up 29 days YoY.
According to report data from Rocket Homes, when comparing 'days on the market' to the previous year, homes in Venice Beach are sitting on the market for longer, with an average sale time of around 51 days. That's a significant increase from the 29 day average the year prior. Rocket Homes also shows that the number of 1 bedroom homes sold in May was ten, an increase of 2, or 25%, from the month prior, with the total number of homes sold this month sitting at 30, compared to 29 from the month prior. Given all this data, Rocket Homes still considers Venice as a seller's market with high prices and quick sales.
However, it's important to note that an important detail from Rocket Homes; in May 2023, 60% of homes sold below the asking price, suggesting potential bargaining opportunities for buyers.
Free Venice Home Staging Quote
You've invested time and money into your property. Selling it isn't the place to cut corners. That's why you need home staging. Our job is to make sure you get top dollar for your beautiful LA home.
We're not here to make your home look like a magazine cover. Your potential buyers want personality and warmth and they'll feel as if they found their own oasis when they step in to view.
Stage Your Venice, California Space Today
Home staging with Mid Modern Designs is the best start to getting a return on your home investment. Whether you're looking to stage you home in the Hollywood Hills, Century City, Studio City or anywhere in the greater Los Angeles area, Mid Modern Designs can help. Are you ready to get started?
Contact Us for Your Free Staging Quote
Video of one of the Los Angeles Home Staging Jobs near Venice, CA by Mid Modern Designs
---
Home Staging Services Near Venice, CA by Mid Modern Designs
Mid Modern Designs offers Venice, California home staging services throughout Los Angeles County and the greater Los Angels area. Below is a list of cities near Venice where we offer house staging services.
Marina Del Rey
Playa Vista
Playa Del Rey
Culver City
El Segundo
Inglewood
Manhattan Beach
Hawthorne
Lawndale
Hermosa Beach
Redondo Beach
Don't see your city listed? Contact us to see if we service your area.
---
Our Greater Los Angeles Area Home Staging Projects
Mid Modern Designs is a Los Angeles home staging company that offers home staging services across Los Angeles and surrounding counties. We are one of the fastest growing home staging companies on the west coast.
Speak with one of expert home stagers today and request a free quote for furniture staging Los Angeles properties.
Our home staging & interior design services cover:
Los Angeles County
San Diego County
Orange County
Santa Barbara County
Palm Springs
and more!